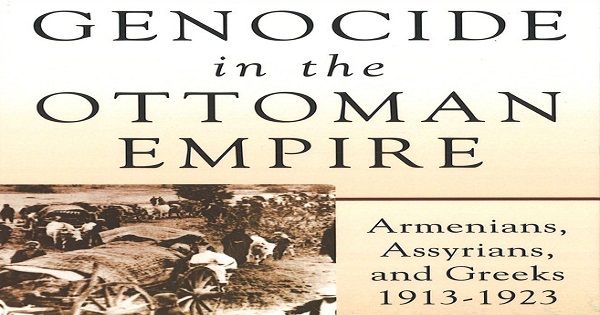 GENOCIDE IN THE OTTOMAN EMPIRE
Armenians, Assyrians, and Greeks, 1913-1923
Edited by George N. Shirinian
Berghahn Books 2017.
Available at Amazon

The final years of the Ottoman Empire were catastrophic ones for its non-Turkish, non-Muslim minorities. From 1913 to 1923, its rulers deported, killed, or otherwise persecuted staggering numbers of citizens in an attempt to preserve "Turkey for the Turks," setting a modern precedent for how a regime can commit genocide in pursuit of political ends while largely escaping accountability. While this brutal history is most widely known in the case of the Armenian genocide, few appreciate the extent to which the Empire's Assyrian and Greek subjects suffered and died under similar policies. This comprehensive volume is the first to broadly examine the genocides of the Armenians, Assyrians, and Greeks in comparative fashion, analyzing the similarities and differences among them and giving crucial context to present-day calls for recognition.
CONTENTS

PART I: CONTEXTS
Chapter 1. The Background to the Late Ottoman Genocides, George N. Shirinian
Chapter 2. Convulsions at the End of Empire: Thrace, Asia Minor, and the Aegean, Dikran Kaligian
Chapter 3. Assyrians in the Ottoman Empire and the Official Turkish Policy of Their Extermination, 1890s-1918, Anahit Khosroyeva

PART II: DOCUMENTATION AND EYEWITNESS ACCOUNTS
Chapter 4. Considering Genocide Testimony: Three Case Studies, Paul Bartrop
Chapter 5. The Assyrian Issue 1914-1935: Australian Documents and Press, Stavros Stavridis
Chapter 6. American Women, Massacres, and the Admiral: Deep in Anatolia during the Turkish Nationalist Revolution, Robert Shenk
Chapter 7. Found in Translation: Eyewitness Accounts of the Massacres in Nicomedia as Reported by Greek Journalist Kostas Faltaits, Eleni Phufas
Chapter 8. The Destruction of Smyrna in 1922: An Armenian and Greek Shared Tragedy, Tehmine Martoyan

PART III: LEGACIES AND INTERPRETATIONS
Chapter 9. Lemkin on Three Genocides: Comparing His Writings on the Armenian, Assyrian and Greek Genocides, Steven Leonard Jacobs
Chapter 10. The Ottoman Genocide of the Armenians and Greeks: The Similarities and Structural Peculiarities, Gevorg Vardanyan
Chapter 11. The Genocide of the Ottoman Greeks 1913-1923: Myths and Facts, Thea Halo
Chapter 12. Redeeming the Unredeemed: The Anglo-Hellenic League's Campaign for the Greeks in Asia Minor, Georgia Kouta
Chapter 13. Genocide by Deportation into Poverty: Western Diplomats on Ottoman Christian Killings and Expulsions, 1914-1924, Hannibal Travis
Chapter 14. The Socio-Psychological Dimension of the Armenian Genocide, Suren Manukyan