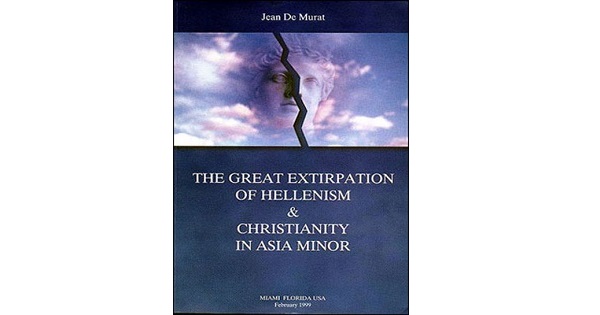 THE GREAT EXTIRPATION OF HELLENISM & CHRISTIANITY IN ASIA MINOR
JEAN DE MURAT
Miami, Florida, USA 1999.
Available at Amazon
Excerpt.
14 September 1922:
The officers and sailors of the American battle-cruisers "Litchfield", "Simpson", "Lawrence and "Edsall" testify in their sworn depositions to the slaughters and the burning of Smyrna by the Turks. Additional eye-witnesses were: Melvin Johnson; Ensign Gaylor; Officer James Webster; Lt. Commander H.E. Knaus; Dr Wilfred Post; E.O. Jacob; Director of the YMCA and Ed Fisher, Deputy Director of the YMCA; the Chief of the Fire Service, Grescovitch; Vice-Consul Park; John Kingsley Birg, Arthur C. Reed and Ralph S. Harlow, professors at the American College, and their wives and their American staff.
Major Arthur Maxwell, of the British Royal Marines, watching the crowd of refugees through his binoculars from the British battleship "Iron Duke", could clearly make out people with buckets throwing a liquid over the people. In the beginning he thought they were firemen trying to put out the flames from the blazing remains of the fire which, with rushing intensity, had reached as far as the coast and was already burning the people. But with horror he noticed that, each time they poured the liquid over the refugees, there was a sudden igniting explosion of flames. "My God" exclaimed Maxwell, "they're trying to burn the refugees alive!" "The British higher government functionaries who were standing next to him, pale-faced at this horrific spectacle, agreed unanimously that they too saw this horrific holocaust of refugees taking place". - (from page 146).