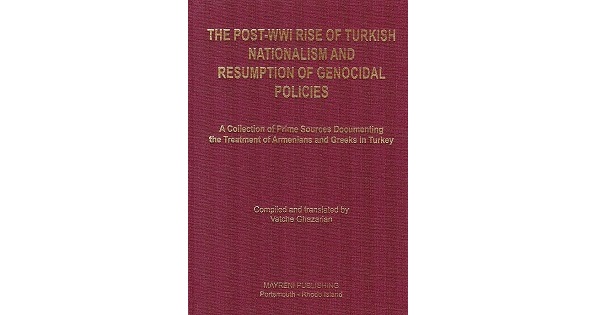 The Post-WWI Rise of Turkish Nationalism and Resumption of Genocidal Policies: A Collection of Prime Sources Documenting the Treatment of Armenians and Greeks in Turkey.
by Vatche Ghazarian
Mayreni publishing, 2023.
650 pages.
A collection of prime sources documenting the treatment of Armenians and Greeks in post WWI Turkey. This is a bilingual book where the Armenian original texts and their English renditions are juxtaposed.
Contents
Preface
Sources of Letters, Reports and Telegrams
The Administrative Divisions of Modern Turkey
The Records
Insecurity:
Notebook Number 1 (May - Jul 1919)
Notebook Number 2 (Jul - Aug 1919)
Notebook Number 3 (Sep - Oct 1919)
Notebook Number 4 (Sep - Oct 1919)
Notebook Number 5 (Nov 1919 - Jan 1920)
Notebook Number 6 (Jan - Feb 1920)
Notebook Number 7 (Feb - Mar 1920)
Notebook Number 8 (Mar 1920)
Notebook Number 9 (Apr 1920)
Notebook Number 10 (Apr - May 1920)
Notebook Number 11 (Apr - Jun 1920)
Notebook Number 12 (Jun - Jul 1920)
Notebook Number 13 (Jul - Sep 1920)
Notebook Number 14 (Sep - Oct 1920)
Notebook Number 15 (Apr - Oct 1921)
Notebook Number 16 (Jul - Sep 1921)
Notebook Number 17 (Sep - Dec 1921)
Notebook Number 18 (Nov 1921- Mar 1922)
Notebook Number 19 (Apr - Oct 1922)
Notes
Appendices
Glossary, Tables and Indices