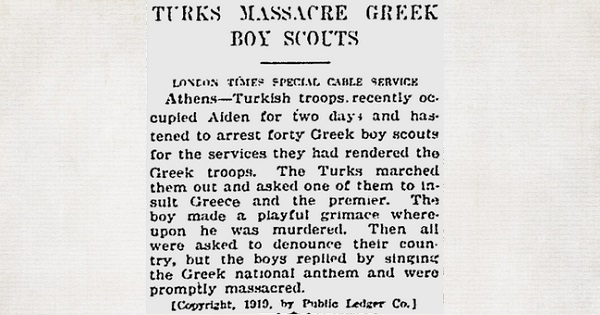 TURKS MASSACRE GREEK BOY SCOUTS

The Milwaukee Journal.
22 August 1919.

LONDON TIMES SPECIAL CABLE SERVICE
ATHENS — Turkish troops recently oc-
cupied Aiden for two days and has-
tened to arrest forty Greek boy scouts
for the services they had rendered the
Greek troops. The Turks marched
them out and asked one of them to in-
sult Greece and the premier. The
boy made a playful grimace where-
upon he was murdered. Then all
were asked to denounce their coun-
try, but the boys replied by singing
the Greek national anthem and were
promptly massacred.


---

Further reading:
The Aydin Massacre, June 1919
20 Mar 1919: Defeated Turk Orders Killing, Washington Herald
29 Aug 1921: Aidin a Vast Sepulchre, The New York Times