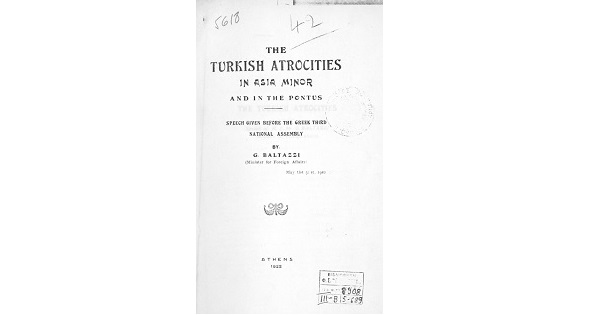 THE TURKISH ATROCITIES IN ASIA MINOR AND IN THE PONTUS.
SPEECH GIVEN BEFORE THE GREEK NATIONAL ASSEMBLY.
by G. Baltatzis (Minister for Foreign Affairs).
May 31, 1922.
42 pages.
The following document includes a speech delivered by Mr George Baltazzis, Greece's Minister of Foreign Affairs on the 31st of May 1922, before the Greek National Assembly detailing the persecution of Greeks throughout Ottoman Turkey. On page 5, Mr Baltazzis states:
The idea which inspires all these crimes leaves no room for doubt. It is the systematic extermination [of] all Greeks and all Christians, in the countries placed under the direct administration of the Turkish Authorities.
The document also includes a speech delivered by A. Matesis, the delegate for Attica and Beotia, who quotes an article from the Ankara newspaper "Hakimyer-i-Nilliye" a semi-official organ of Mustafa Kemal. The article which was published under the title "A Hymn to Hatred" exhorted the Turkish people to "continue" to kill Greeks based on a fear of England. The article read as follows:
And, you, the Army of the Creator of Right, by the killing of every Greek you are throwing down one by one the corner stones of the British Empire. For God's sake, continue your killing; for the love of your country, continue your massacres; in the name of mourning humanity continue your slaughters; for the salvation of the world and the peace of Hell, continue your murders. Turn around and see; is there any other power besides England assisting Greece, and has England any other friend than Greece?

Further Reading:
2 Jul 1922: 10,000 Greeks in Turkish Massacre, Ogden Standard-Examiner
Pontus