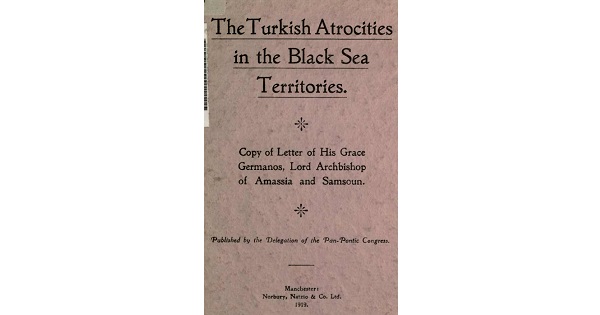 THE TURKISH ATROCITIES IN THE BLACK SEA TERRITORIES:
COPY OF LETTER OF HIS GRACE GERMANOS, LORD ARCHBISHOP OF AMASSIA AND SAMSOUN.
Norbury, Natzio and Co, Manchester 1919.

A 7 page letter dated December 1918 by Metropolitan of Amassia Germanos Karavangelis to M. Constantinides the President of the Pont-Euxin Unredeemed Greeks Committee based in Marseilles, France.

Excerpt:
Towards the end of the year (1917), when the savage instincts of the tyrant and his instruments as well as the wild fanaticism of the Turkish were satisfied, I was at last able to go out towards the mountains to discover and assemble fragments of evidence as to the catastrophe. I found only ruins and desolation; skeletons lay scattered on the mountains. I found but a very small number of women and children who, hidden in the caverns and the forests, had been able to escape the fury of the excited rabble. - Metr. Germanos Karavangelis. pp. 4-5.