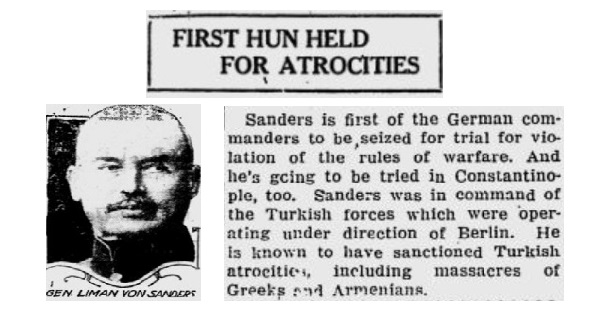 FIRST HUN HELD FOR ATROCITIES

The Evening Independent
March 15, 1919.


Sanders is first of the German com-
manders to be seized for trial for vio-
lation of the rules of warfare. And
he's going to be tried in Constantino-
ple, too. Sanders was in command of
the Turkish forces which were oper-
ating under direction of Berlin. He
is known to have sanctioned Turkish
atrocities, including massacres of
Greeks and Armenians.
---
First Hun Held for Atrocities. The Evening Independent (Fla), March 15, 1919, p.1.

Further Reading:
Otto Liman von Sanders (1855-1929)
Deutschland über Allah!
Atatürk in the Nazi Imagination
Two War Years in Constantinople